Jet-Vac / Vactor Service
---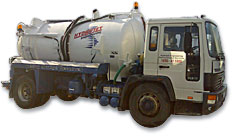 Hydro jetting is the use of high pressure water directed through a nozzle to clean and de scale sewers.

Hydro Jetting, Using a Water Jetting and Vactor Units for the Cleaning of underground pipes and sewer lines quickly and cost effectively.


Hydro-Jet Engineering uses high pressure jetting equipment that is an advanced machine that cleans and unclogs any size piping, pumping at over ten gallons a minute.

The jets are effective at both clearing any blocked drain and cleaning the inside of the drain pipes at the same time. Unlike other systems that bores a hole in the clogged area and almost never cleans to the full opening of the pipe, the hydro jetter cleans the sidewall of the pipe back to its full opening.

Vactor Jetting is were all debris are removed by vacuum during the cleaning process.
This provides a clean sewer ready for inspection by the CCTV SURVEY unit.
With our large selection of nozzles, Hydro jet can adapt to any situation.

Hydro jetting, coupled with a video inspection is the most complete pipe refurbishing available next to a complete pipe replacement.
---

OUR JETTING UNITS
Portable van jetters
|
High volume Jetter
|
Vac-tanker Jetters
Sample Hydro-jetting Nozzles
powerful penetrating
nozzle cuts through grease
and blockages
wide spray nozzle
cleans inside of
pipe thoroughly
rotary nozzle scours
walls of pipes leaving
them crystal clear
---
---