CCTV Surveys
---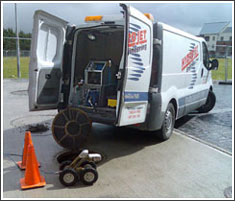 Drains, by their very nature of being underground, are subjected to a number of stresses over the years. Ground can move, dramatically depending on how wet or dry it is. Shrub or tree roots have to grow around the pipes, subsidence can add high additional weight over the pipes. Traditional Salt Glazed sewer pipes will start to breakdown after a while and these stresses can start to cause leaking at the joints, cracking along the pipes or at worst complete collapse. Leaky soil pipes are not only a potential health hazard but can also wash away the foundations of a property causing subsidence.
Damaged pipes can cause blockages.

When buying a property, often the mortgage lender will want assurance that the pipes are in good order or if you wish to inspect suspected structural defects in any sewer. How can this be done, without having to expose the pipes? Our Close Circuit Television (CCTV) survey units are ideal for this purpose.

This is a totally non-invasive process in which we insert a camera into the sewer connected to a monitor and recording system. Our system is capable of surveying sewers form 100mm Diameter to 1,500mm diameter to a distance of 200 meters from the manhole with a pan and tilt 360˚ field of vision. If a problem is detected the on-screen meter counter can determine the exact position. Our condition reports are generated on win cam software and conforms to BS EN :3508-2 ( EN 20030 ) STANDARD.

If a repair to the pipe is necessary, we specialise in a number of options, including replacing the broken section by excavation, or - the new way - relining the pipe from within with a Glass reinforced plastic. This is particularly useful where pipes are inaccessible, such as under buildings. (see PIPE RELINING & CIVIL ENGINEERING SECTIONS)


After a repair has been carried out a further CCTV survey will check to make sure that water is free flowing without any restrictions.
---
---